Fun and Interesting Places and some
History of Yester-Year
You will find many links to old ghost towns here in The Valley of The Sun. Our favorite is Vulture Mine Ghost Town. This was the richest gold mine of the 20th century. The mine was discovered by Henry Wickenburg who later sold it for very little profit. He thought the mine was all played out but he was wrong, dead wrong. He died penniless in later years shooting himself to death on May 14th 1905.. The Vulture Gold Mine went on to produce over $200,000,000 in gold.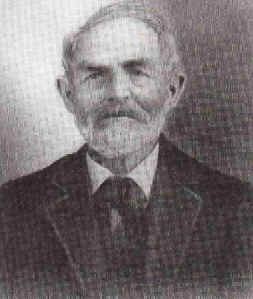 Henry Wickenburg, 1819 to 1905
You must have Quick-Time-Player installed to view this movie.
Download it for free here


A Video Story of the Vulture Mine
There was so much theft from workers and management that there is no way to tell for sure how much gold really came out of the mine from its birth in 1863 till it was shut down in 1942. The shut down came by presidential directive as a security issue during World War II. The mine owners and workers expected to come back and reopen the mine in 6 months or so but that never happened.
Below are some photos we took during our trip to the old ghost town/mine. Just click on the thumbnail image to see the larger photo. We took these shots while on an outing in search of ghost towns. In the photos are Lori & "G-II" and Jenn, our daughter.

Plenty of these old skeletons around here

And... if we had enough rain, you could take your bath out in the bush...
This was the mess hall. The miners cooked and ate here.
This was the Apartment, a kindly word for 'brothel'. The apartment is situated right across from the main single miners living quarters.
This is the Assay House. The left 1/3 was for evaluating the grade of ore, the center 1/3 contained an underground vault and the right 1/3 and upstairs is where the guards lived.
The town/mine supplied its own power from this huge German diesel generator. This generator was started by a smaller engine that has been taken to a museum.
The town is riddled with this little convenience. Many of them are still standing. We even found an out house that had two commode seats in the building.... Hummmm
This is one of two school houses on the old town site. The old swing set and teeter-totter are still here, though the teeter-totter's wood has rotted away
This is a shot of both of the school houses. The school house in the foreground is divided into two bays, probably for different aged children. The school house in the rear is one big bay.
There are more links below to other exciting ghost towns and mines in Arizona
Cullen's Well Coldwater Union Beardsley Seymore Edith Red Rover
Old West Bed & Breakfasts