Our Privacy Statement
We are committed to your privacy. To help you better understand how your information is used, we have prepared this statement for your benefit. This statement explains what information is collected from you, how it is used and the confidentiality of that information. Our privacy statement can be found on each page of our website.
This notice applies to all information collected or submitted on the RealEstateInPhoenix or HomesInPhoenix websites.
The information we collect from our members include, but is not limited to name, address, e-mail address, phone number, company name, company phone number, user website address, cell phone and pager numbers. This information is obtained from each member who completes a registration form or opts to allow your web browser to send a "cookie" to our web server. This information is then transmitted to our data files.
Other information obtained includes browser type and other non-personal information that allows us to determine the portions of our site that receive the most traffic. This non- personal information also allows us to determine how users are navigating the site and provides valuable information to our team of web designers, helping us keep our web sites crisp, fast, lively and full of useful information for our visitors.
We do not share this information with outside parties unless you explicitly ask us to do so. You will never be asked for any security sensitive information from anyone on the team. If and when a SECURE web page is set up for you, the security information that allows your access to your personal SECURE WEB PAGE is kept in an off line database, inaccessible by any entity outside of our own Intranet and is absolutely inaccessible to any Internet invasion.
We use e-mail addresses to (without limitation) respond to e-mail we receive, manage members accounts and deliver information about our service. We use non-identifying and aggregate information to better design our website and DO NOT share this information with any of our advertisers.
Sincerely,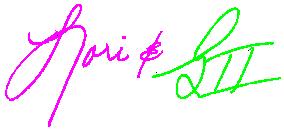 Lori & "G-II"
Coldwell Banker Success, Realty